Why do I need an experienced nose job surgeon?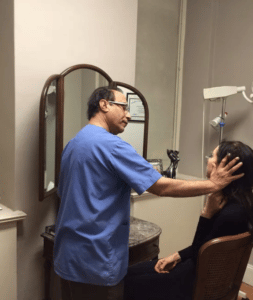 Since nose job surgery is considered the most difficult operation in the field of plastic surgery, you need a skilled cosmetic surgeon with an artistic eye, as well as expertise, to achieve optimal results. "Practice Makes Perfect." Therefore, you need an experienced rhinoplasty surgeon who has done thousands of nasal surgery procedures. Dr. Shahar offers years of experience, talent and is the best rhinoplasty surgeon in New York City.
Doctor Shahar also has vast experience with diverse ethnic backgrounds. He understands the importance of maintaining this characteristic.
What is Secondary Rhinoplasty?
Secondary rhinoplasty is a rhinoplastic procedure meant to correct previous mistakes or imbalances from previous nose surgeries. The operation is much more complicated and requires a surgeon who is an expert in secondary rhinoplasty.
Patients usually go for a secondary rhinoplasty to fix specific persisting imbalances, either newly formed or that became more noticeable. Secondary rhinoplasty is even more complicated because it rebuilds or repairs a nose that was already operated on. The nose tends to be imbalanced compared to other facial features due to a first rhinoplasty surgery, healing complications, incomplete follow up or plastic surgery techniques. A secondary rhinoplasty is often much more complicated than a primary rhinoplasty.
Dr. Shahar performs primary as well as secondary rhinoplasty, quite frequently on patients who have previously had a nose job performed with less than optimal results.. Though it is easier to achieve optimal results on primary rhinoplasty than on secondary rhinoplasty, his experience and expertise allow him to successfully handle secondary rhinoplasty and challenging noses.
Natural looking nose job
Dr. Shahar pays special attention to the size and shape of the nose in proportion to the face. He conducts a thorough analysis of the nose that includes an examination of the airway passages, boney and cartilaginous anatomy.