You are not alone. Many of our patients at Natural Look Institute, choose minimally invasive and affordable cosmetic procedures to change their appearance. Like you, many of those are seeking affordable cosmetic surgery or affordable cosmetic enhancements without spending tens of thousands of dollars on cosmetic surgery. Affordability is in our DNA at Natural Look Institute! Some of our procedures only take a lunch hour to perform with little to no recovery time.
Ever since the mid 2000's interest and demand for minimally invasive and affordable cosmetic surgery has increased exponentially. We listened and are proud to say we designed procedure that are efficient, safe, natural looking and affordable! Before you choose any of the procedures, it's critical to become familiar with them and consider your choices.
Below, are examples of affordable plastic surgery procedures. Thanks to the following procedures, you can change your look and feel better about your appearance:
1. Nose Jobs (Rhinoplasty)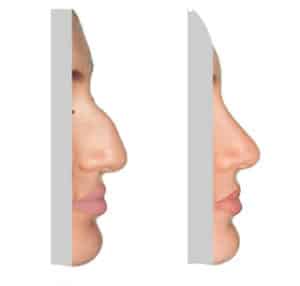 Nose job or rhinoplasty, is one of the most common procedures performed in New York City today. Rhinoplasty surgery not only reshapes the nose, but also has a significant effect on the balance of your facial features. Reshaping the nose includes removal of the dorsal hump, narrowing a wide tip, lifting a droopy nose, straightening a crooked nose, reducing the size, and more.
Why do I need an experienced nose job surgeon?
Rhinoplasty surgery
 is performed in a surgical center. The patient is usually discharged about 2-3 hours after surgery. After 5 days Dr. Shahar removes a small splint over the patient's nose . After the procedure some swelling and possibly some bruising may appear under the eyes. This is absolutely common and normal. It usually alleviates within a week or so. The minimal discomfort is easily controlled with analgesics (pain killers). Final results may take months of recovery time, but the improvement lasts indefinitely.
Rhinoplasty and nose jobs aren't purely cosmetic treatments either. Many patients consider these nasal procedures to help with difficult breathing and extreme sinus problems. Dr. Shahar will review your personal case and check for obstructions or causes for your problems.
If you are thinking about getting a nose job (rhinoplasty), you should set up an appointment with Dr. Shahar to discuss it. Dr. Shahar is one of New York City's best nose job surgeons. During the initial consultation, discuss your goals, fears and mostly discuss what bothers you about your nose and facial features. Rhinoplasty surgery can enhance your natural appearance, but keep in mind that a perfect nose doesn't exist!
2. Mini facelift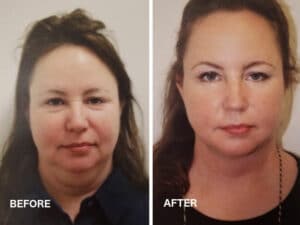 A mini facelift is a minimally invasive procedure that is destined to lift drooping skin on your face. The mini facelift involves a small incision made under the cover of the hair line and around the ears. The mini facelift tightens the underline muscles, and excess skin, defines your jawline, improves your neck laxity and overall look.
With the newest techniques, you can achieve a younger natural look with hidden incisions and very small scars.
Dr. Shahar has perfected the facelift procedure, minimizing scar length and visibility. The incision site becomes almost invisible so that you can have a short hair style without it being noticeable. If the neck has significant laxity (looseness) a small incision under the chin is made to remove excess fat and tighten the muscle.
The mini facelift (weekend facelift) is a rhytidectomy plastic surgery technique intended to enhance overall facial appearance thanks to the lifting and tightening of the skin and muscles in the face, cheeks and jaw. This minimally invasive procedure reduces sagging and wrinkles in the cheek and jawline area. With the newest techniques, you can achieve a younger natural look with fuller cheeks and a well-defined jaw line.
One of the main benefits of a mini facelift is that it requires a shorter recovery time.
Also, since mini facelifts are less invasive, the discomfort is minimal post-op.
Unlike a traditional more invasive facelift, mini facelifts can usually be performed using local anesthesia.
Lastly, since mini facelifts are less time consuming, complicated and do not require general anesthesia, the cost is significantly lower than that of a traditional facelift.
The mini facelift plastic surgery is designed for patients who start noticing visible signs of aging: wrinkles, sagging skin. The mini facelift is the perfect solution for patients who are not ready for more invasive facelift procedures or can't take too much time off for recovery time.
Learn more about affordable mini facelift and affordable facelift
3. Fat injection for face
The changes that occur with aging are a loss of volume, gravity changes, loss of skin elasticity, and the formation of wrinkles. Fat injection is a procedure that involves harvesting fat from other areas of your body to ultimately re-inject it in your face. The purpose of fat injection is to restore the loss of volume.
Fat injection is a procedure that involves harvesting fat with a small tube (called a cannula) from the abdomen or flanks, and injecting it to the face. It is vital to have a surgeon with an artistic eye for proper placement of the fat to produce optimal results. Fat injections, otherwise known as facial fat grafting, can be administered to the face. Fat injections requires harvesting from a specific "donor site" of your body (such as the buttocks or abdomen). A specific liposuction technique is used to extract the fat from the donor site, with a small tube (called a cannula). The suctioned fat from the donor area is then transferred to the face, as a graft.
Though this procedure is just now gaining popularity, Dr. Shahar has been performing the procedure for the past 15 years. Having done thousands of fat injections, Dr. Shahar has the experience and expertise to obtain optimal results.
As filler, the fat injection can last for years in certain areas of the face and body. A fat injection can correct disproportion of facial features to bring balance and harmony to your face. It can enhance your cheeks, eliminate depression of your lower eyelid and nasolabial folds (deep folds that run from the side of the nose to the corner of the mouth), or eradicate the pre-jowl depression. It is the preferred method of choice since your own fat is being used. Compared to other injectables with temporary results, this procedure provides long lasting results.
Some patients may find it more effective than a mini-face lift. Most of the time, fat injection is performed together with a facelift. The procedure is done under local anesthesia, and you can return to work the next day.
There are numerous alternative filler substances used today as well. These include Restylane, Perlane and Radiesse. Each one of them has advantages and disadvantages.   Dr. Shahar has selected only the best products, and will discuss the different options, available as well as the preferred substance for you.
You may consider facial fat injections / facial fat grafts when you have deep facial wrinkles, hollows or creases. You may consider facial fat injections if you are looking for a more permanent facial correction procedure (in comparison to temporary fillers). Fat grafting / fat injections are a good procedure when it comes to filling bodily depressions and rejuvenating the face.